Easy and Yummy, I am not a big one for granola but my friend Dianna shared this recipe for me and I must say it is wonderful! I have made some changes from the original, so feel free to customize it to your taste.
3 c rolled old fashioned oats
1 c sliced almonds
3/4 c shredded coconut
1/4 c wheat germ
1/4 c oat bran
1/3 c dark brown sugar
1/4 c oil
1/4 c maple syrup
1/4 c honey or agave
1 tsp salt
1 c dried cranberries
1/2 c chopped dried apricots, pears or mixture of both
1 c white, milk or dark chocolate chips
Preheat oven to 250
Mix oats, almonds, coconut, wheat germ, oat bran and brown sugar in large bowl
In another bowl whisk together oil, honey, syrup and salt.
Pour over mixture, stir well and place in 13 X 9 pan and bake 1 hour 15 min. stirring every 15 min.
Remove and cool on wax paper. When completely cool place in large bowl, add fruit and chocolate chips, Break up any large pieces and mix well.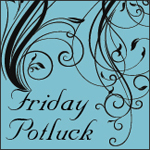 Sweet Tooth Friday